Legacy Associates Foundation Executive Board


Caleb Rutledge
President and Director of LAF "Let's Start a Business"

Youth Entrepreneurship Program, Founding Member
Occupation: Midwest Account Director in Mobile Advertising and Marketing,
AvantGo & Sybase 365; Owner of Four Seasons Lawn Care
Email: crutledge@legacyassociates.org
Caleb Rutledge is a graduate of the University of Detroit High School and Wayne State University, with Bachelor's degree in Psychology. He also studied marketing and gained expertise in Internet advertising and media while previously employed with J. Walter Thompson as an analyst on its Ford Motor Company account and at GM Planworks on its Chevrolet account. Caleb is currently an account director with the AvantGo Corporation. He also owns his own lawn care and landscaping company and is involved in the acquisition of new real estate development. He is on the advisory board of directors for Crockett High School Compact and is a member of the Adcraft Advertising Club and 100 Black Men of Greater Detroit, Inc. Caleb has been honored with the Martell "Rise Above" Award for his community activism.
"Growing up I always had a relative, family friend, teacher, or neighborhood adult giving me advice or direction. Therefore, I was eager to create an organization that could be a resource to youth. I am proud to say that we gave our first scholarships when we were still in college."
James W. Heath
Vice President, Founding Member

Occupation: Assistant Prosecuting Attorney (Public Integrity Section), Wayne County, Michigan; former candidate for Michigan State Representative
Email: jheath@legacyassociates.org
James W. Heath is a graduate of University of Detroit High School and earned a Bachelor's degree from Michigan State University and a Juris Doctor from Kent College of Law. While maintaining an active law career, he has also delved into politics, running for the Michigan State House of Representative in 2004. He was also a 2005 Michigan Political Leadership Fellow. James is vice president of the Blackstone Park Neighborhood Association and on the board of directors of Mariner's Inn, a residential substance abuse treatment center that also provides transitional housing to homeless men. He is also a member of the State Bar Association of Michigan, American Bar Association, Wolverine Bar Association and Alpha Phi Alpha Fraternity, Inc.
"I joined LAF 10 years ago primarily because of the close friendships I enjoyed with the founding members. I believed in them and wanted to explore ways in which we could transform our personal friendships into a vehicle to serve the metro Detroit community. I want to continue to enhance the level of service we can provide to young people in this community."
Raphael Johnson

Chair of Community Involvement,
Member Since 2007
Occupation: CEO of Total Package Lifestyle, LLC (as well as author, motivational speaker and certified trainer); Community Reintegration Coordinator, Goodwill Industries of Greater Detroit
Email: rjohnson@legacyassociates.org
Raphael Johnson attended University of Detroit Jesuit High School and Cass Technical High School. He earned certification as a paralegal and legal assistant from Blackstone School of Law and is pursuing a Bachelor's degree from University of Detroit Mercy (UDM). He was awarded a full scholarship to attend the University of Detroit Mercy and was honored with the UDM Dean's Award (2004-2007). He is an author, motivational speaker and certified fitness trainer under the auspices of his company Total Package Lifestyle, LLC. He has written an autobiography, "To Pose a Threat: My Rite of Passage." Raphael's work has garnered him several honors, including the Special Celebration Award from Detroit Mayor Kwame M. Kilpatrick and the Detroit City Council has presented him with the Spirit of Detroit Award and its Testimonial Resolution Award for his published work. He is involved in the metro Detroit community as a youth mentor and volunteer for the Flip the Script Program, Gesu Church Homeless pantry and shelter, and facilitator/Instructor for Conflict Resolution classes. He has also implemented the Total Package Lifestyle Clothing Drive and works with the Isuthu Institute and Young Men In Transition (Mumford High School). He is member of the Detroit Parent Network, National Association for the Advancement of Colored People (NAACP), Nation of Islam, Michigan Citizens United for Rehabilitation of Errants (MI-CURE) and Peace Keeper (E.N.O.T.A., Educating Neighborhoods to Obey Those in Authority, Project). Raphael can also be found by visiting his personal website as well.
"I want LAF to have continued success in challenging the thinking process of our young people. I want us to provide them with the necessary resources and information that will make this change concrete."
Michael Thomas, Jr.
Chair of Economic Empowerment, Member Since 2007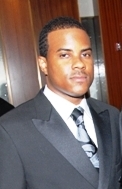 Occupation: Pharmaceutical Sales Representative, AstraZeneca
Email: mthomas@legacyassociates.org
Michael Thomas, Jr. is a graduate of University of Detroit High School and Florida Agricultural and Mechanical University (Florida A&M). He earned a Bachelor's degree in Business Administration. In addition to his work in pharmaceutical sales, he invests in real estate and other business areas. He plans to begin motivational speaking.
"I watched LAF throughout my high school years serve as a great example of what it means to reach back while moving forward. I want to help provide opportunities for youth in Detroit. LAF is a great platform to do so."
Jason Malone
Chair of Scholastic Achievement, Member Since 2007

1998 LAF Scholarship Recipient
Occupation: Recent college graduate
Email: jmalone@legacyassociates.org
Jason Malone attended University of Detroit Jesuit High School and Academy and recently graduated from Loyola University with a Bachelor's degree in Communications. He co-founded the Midnight Golf program for youth in the city of Detroit. He is a member of the Alpha Phi Alpha Fraternity, Inc. and was president of the Black Student Union at Loyola.
"The Legacy Associates Foundation has nurtured me throughout my high school and college experience and I truly believe that the mission of the organization parallels my mission in life."
Julius J. Readus

Secretary, Member Since 2007
Occupation: Financial Advisor, Merrill Lynch
Email: jreadus@legacyassociates.org
Julius J. Readus graduated from Northwestern High
School. While attending Davenport University, he earned a Bachelor's of Business Administration in finance and was awarded the "Mr. Davenport University" Scholarship. It is presented to the male student who best exemplifies the ideals of the university. Julius offers financial literacy seminars in the metro Detroit area. He is also an instructor for Operational Hope and youth league basketball coach. He sits on the board of directors for The Children's Center Of Wayne County and is a member of the National Association of Black Accountants, NAACP, Optimist International, Phi Beta Sigma Fraternity, Inc. and Southfield Area Chamber Of Commerce. He is also a precinct delegate for the City of Southfield.
"LAF members share the same vision - mentoring, educating and preparing our youth with key life skills to be productive members of their communities. Wealth and personal accolades are not what is important, but the Legacy that we leave behind."
Calvin R. Toone
Treasurer, Member Since 2007

Occupation: Vice President and Business Relationship Manager, J.P. Morgan Chase
Email: ctoone@legacyassociates.org
Calvin R. Toone is a graduate of Lake Shore High School and Wayne State University. His Bachelor's degree is in Corporate Finance. As a vice president at J.P. Morgan Chase, he is responsible for managing more than 15 million dollars in assets and has developed activities that increased branch business lending by 200 percent. He is a Quality Customer Service Award winner. Calvin volunteers with United Way on its annual fund-raising project and as a mentor with Big Brothers Big Sisters of Metropolitan Detroit. He also worked as campaign treasurer during Triette Reeves' run for the Michigan State Senate. In addition, he is chairman of the board of trustees for Northend Church of God in Christ Youth Representative and Youth Representative for the NAACP's Macomb County chapter. He is also a member of the National Association of Accountants, UAW Local 2280 and Omega Psi Phi, Inc.

"I want legacy to help me pull out the talent that I have and share it with those that can use it to further their careers. I also want to soak up the wealth of knowledge that is embodied within the association."